Battery Separator Films
Proven at leading producers
Brückner offers stretching technologies for the manufacture of battery separator films standing for high production efficiency and consistent film quality: The patented Evapore® process as well as our state-of-the-art wet process.
The innovative Evapore® line concept includes full process know-how and the film is particularly environmentally friendly. The wet process benefits from Brückner's wealth of experience in wide and fast stretching. Brückner offers sophisticated and customized machine components or entire lines for the wet battery separator production.
Whereas sequential stretching is the most common concept, simultaneous LISIM® technology is the best solution for the utmost flexibility in the wet process.
Separators from Brückner machines have successfully passed all standard battery tests and can be coated with commercially available inorganic particles or according to Brückner's own ceramic coating recipe and know-how.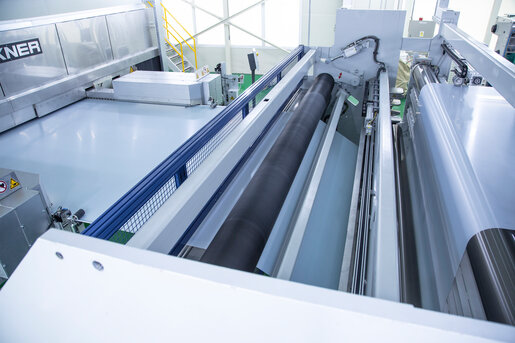 EVAPORE process
Complete production line including film and performance guarantee
Brückner's industrial solutions for battery separator film production are based on extensive in-house R&D activities and are already in production at leading battery separator film manufacturers. Benefits for our customers:
Low production costs
Energy efficient
Environmentally aligned
Full process know-how
Product guarantees for properties & performance
| Film Type | Thickness Range |
| --- | --- |
| Porous film | 8 - 25 µm |

WET process
Lines and components according to customer requirements
The sequential or simultaneous production lines, as well as various well-proven machine components, stand for high production efficiency, uptime and output, low production costs and minimized energy consumption.
High productivity
Superior product quality
Proven design
Process optimised components
| Film Type | Thickness Range |
| --- | --- |
| Porous film | 5 - 20 µm |