We are aware of our responsibility
Because we care!
One of our main concerns is to leave the best possible world to future generations. All Brückner Group members are therefore working on ways to ensure that film and packaging are produced on their machines with the least possible use of resources and with the highest possible recycling capability.
The plastic films and plastic packaging produced on lines of the Brückner Group companies protect the packaged products against environmental influences. This extends the shelf life and reduces storage losses – good for the environment.
Brückner Maschinenbau and the whole Brückner Group are aware of their responsibility with regard to the environment and sustainability. That is why the initiative "Yes, we care" was launched in 2017. Environmental protection starts in our own company!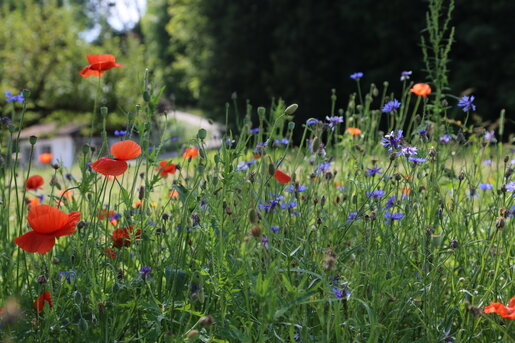 Sustainability is important to us
We participate in different initiatives and take care about sustainable film production and plastics processing
Sustainable film production
Sustainability in film production has been our priority since the earliest days
We help to preserve nature and resources
The preservation of nature by using resources and products responsibly is becoming increasingly important. Since the company's earliest days Brückner has given great thought of these vital issues.
Despite all necessary developments for the rapidly developing circular economy, Brückner Maschinenbau is keeping to its own ambitious objectives for a decreasing raw material usage and an increasingly minimal energy consumption during film production. Despite all legitimate demands about recycling and reusability, the challenge of climate change and the reduction of the carbon footprint throughout the entire packaging production chain must not be forgotten.
Today we have already achieved more than 42% reduction of the energy consumption for our film stretching lines and we are striving to reach a reduction of 50% compared to levels in 2000. We are well on our way to achieving our goal by:
Heat recovery system - also available as an upgrade on existing lines
Twin screw extrusion eliminating the necessity of energy-intensive raw material pre-drying
Special energy monitor: permanent information about consumption show energy saving potentials
Sustainability also implies the use of renewable raw materials, the reduction of the raw materials used, a decrease in the number of process steps and the avoidance of waste. In the fight against climate change, we will still need plastic packaging that is produced in a resource-saving way. Brückner has contributet to this over the years through:
R&D with bio-plastics, resulting in complete new lines as well as modifying existing lines for, e.g. BOPLA film production
Downgauging of films while still achieving excellent film performance - less raw material usage
Barrier films allowing packaging laminate simplification and reducing the number of further converting steps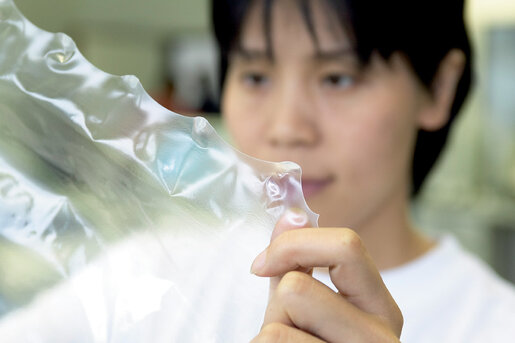 Membership in sustainability initiatives
Our commitment to a world worth living in for future generations
PRINTCYC
In March 2019 a value chain project initiative was launched by a group of companies under the acronym PRINTCYC (Printed PP films for mechanical recycling) to research and test ways to create circular economy solutions basing on post-industrial waste. Members of PRINTCYC: The machine suppliers Brückner Maschinenbau, Kiefel and PackSys Global, the film producer Profol, the ink manufacturers Huber Group and Siegwerk, the converters Constantia Flexibles and Wipak as well as the recycling specialist Erema.
The initiative is coordinated by akk innovation, an independent start-up company for sustainable innovation management in the plastics packaging industry. The specific target of the first two project phases was to understand the impact of different ink formulations on the mechanical PP and PE recycling process. Furthermore, the re-usability of PP and PE recyclates (rPP / rPE) made from printed post-industrial film waste was evaluated in cast film, blown film, compression moulding and thermoforming technologies as well as the biaxial stretching process. Now the team is contacting new, prospective value chain partners and other recycling initiatives for designing the next working package to contribute to a circular economy of printed PP and PE films.
CEFLEX
A circular economy for flexible packaging
Driving towards circular economy
And we are part of it
We see it as our duty to help to preserve precious resources. This is why we are a member of a collaborative project of a European consortium of companies and associations representing the entire value chain of flexible packaging called CEFLEX.
The mission of the project is to make flexible packaging more relevant to the circular economy. This should be achieved by advancing better system design solutions via the collaboration of companies representing the entire value chain.

The CEFLEX-Vision
By 2020 flexible packaging should be recycled in most European countries.
By 2025 a collection, sorting and reprocessing infrastructure/economy developed for post-consumer flexible packaging across Europe will be established.
Blue Competence
Blue Competence establishes network links for the mechanical engineering industry in the area of sustainability and pools the resources, know-how and strengths of the German Engineering Federation (VDMA), the largest engineering industry network in Europe.
Blue Competence – these are the technologies and processes of mechanical and plant engineering which, for example, consume a minimum amount of energy while delivering maximum productivity, preserve our resources, reduce emissions to a minimum or improve people's living conditions in a sustainable way.
Every VDMA member company can participate in the Blue Competence initiative after signing the Blue Competence contract and the associated obligation to publish the twelve sustainability guidelines of the machinery and plant engineering industry on the internet.
How Blue Competence makes the world more sustainable
The participating companies publish their individual articles and solutions regarding the key questions of our time, accompanied and supported by the communication measures of the overall and professional associations. For this purpose, Blue Competence defines well-founded sustainability criteria and standards which all companies participating in the initiative endorse. The initiative thus ensures greater transparency, simplifies orientation and provides security to all those seeking sustainable solutions and products or companies operating sustainably.
On www.bluecompetence.net the VDMA publishes detailed information on the participating professional associations and companies, as well as "best-practice examples", standpoints and positions which are significant for the implementation of sustainable business, ecological and societal solutions.
R-Cycle
R-Cycle is the open and globally usable tracing standard along the life cycle of plastic packaging. The overall goal is to implement a practical solution, ensuring recyclability by seamless documentation of all recycling-relevant packaging properties based on established technologies. In the recycling process, packaging can thus be precisely identified in order to process the resulting recyclate into diverse and high-quality plastic products.
In collaboration with packaging manufacturers, brand owners, wholesalers, and retailers global identification numbers should be introduced and IoT gateways, the necessary server infrastructure and standardized formats for secure data exchange will be developed. Partners in this project are: Arburg, Kautex Maschinenbau, Reifenhäuser, Brückner Maschinenbau, EREMA, Kampf Schneid- und Wickeltechnik, MULTIVAC, STEINERT, the Institute for Plastics Processing (IKV) and GS1 Germany.