Technology Centers
Worldwide unique meeting point for R&D activities
Brückner's unique R&D environment includes our Innovation Test Center (ITC) as well as our Technology Center, both offering comprehensive R&D for all kinds of film stretching technologies under one roof. The Technology Center is rented to our customers and raw material suppliers for film and resin development.
Use our pilot line for your trials
Develop and test new film types
On our unique pilot line many types of film can be produced - in all stretching modes.
Brückner Maschinenbau's unique technology centers
Pilot Line
Unique flexibility for all kinds of stretching
Brückner's Technology Center includes a uniquely flexibile pilot line. Numerous film types of up to 7 layers can be manufactured in all stretching modes:
MD (machine direction) stretching for, e.g. tapes
TD (transverse direction) stretching for, e.g. sleeves
Biaxial sequential stretching for packaging and technical films
Biaxial simultaneous stretching for specialty films (unique LISIM® technology)
The pilot line is the perfect environment for R&D and sample production for BOPP, BOPET, BOPA, BOPS, BOPLA, MOPET-G, MOPS and many other film types. Some of the highlights we produced on our pilot line: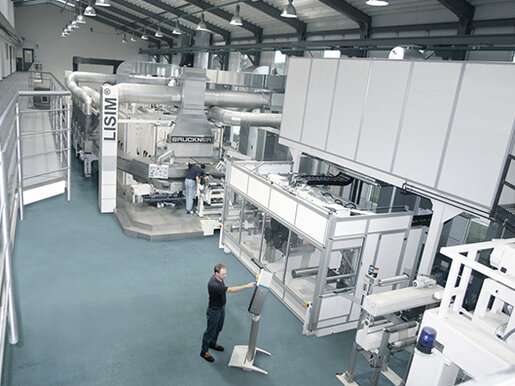 Sequential BOPP 2 - 100 μm 1/3/5/7-layer
Multifunctional packaging film
Low sealing temperature for high speed packaging
High sealing strength film
High surface energy film
Inline coated film
Vacuum coated ultra high barrier film
7-layer high barrier film
MD shrink label film
Synthetic paper / Stone paper
Simultaneous
Low thermal shrink BOPP
High shrink cigarette packaging
Roso-Film
Thin capacitor film (< 3 μm)
Sequential and Simultaneous BOPET 2 - 400 μm 1/3/5-layer
Heat sealable film (lidding for plain PET trays)
Inline coated film (chemically treated)
Thick film (basics for optical grade)
Solar backsheet (UV stabilized)
Low shrink film (substrate for flexible electronics)
Low MOA film (polarizer protection)
Ultra thin capacitor film

Sequential and Simultaneous BOPA 15 - 35 μm 3/5-layer
Low shrink film
5-layer high barrier film
Cold forming film for blister & battery pouches
Sequential BOPE 15 - 50 μm 3/5-layer
Thin and tough sealing layer
Display shrink film
Battery Separator Film 5 - 25 μm 1-layer
PE-Evapore® UHMWPE and HDPE
Monoaxially oriented film: PETG, PS, Polyolefin 30 - 50 μm 1/3/5-layer
MD oriented shrink sleeves
TD oriented shrink sleeves
And others: BOPLA, BOCOC, BOPVDF, BOPEN, BOPEEK, BOPC, BOPVA

Perfect for R&D 
and sample production for many film types
Laboratory Stretching Machine KARO 5.0
Test films and sheets in a very simple and economical manner
With our laboratory stretching machine KARO® 5.0 for monoaxial and biaxial film orientation it is possible to test films and sheets in a very simple and economical manner – in the sequential as well as in the simultaneous stretching mode.
It is ready for your use and can be rented on an hourly cost basis:
Development of new film recipes and materials
Test of new skin layers / additives
Identification of process conditions
Generation of stress strain curves
Evaluation of film properties from stretched samples
Quality insurance for raw materials
Small batch production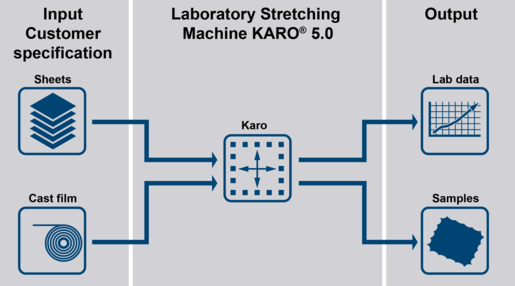 Highlights & benefits
Newly designed user interface – intuitive & easy machine control

Accurate, reliable film temperatures by circulating air ovens – homogenious film samples

Improved insulation and temperature separation – Perfect process control by accurate temperature balance, stable film quality

Good accessibility – for easy maintenance, less downtime

Moving stretching system through different temperature zones – the same as on film stretching lines conditions close to film production line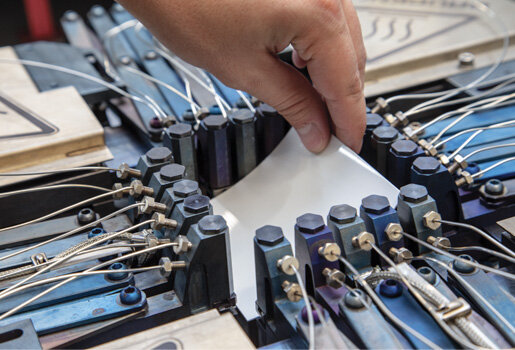 Laboratory Stretching Machine KARO® 5.0
Watch this video to get a quick overview
You want to know more about our labstretcher KARO® 5.0?
Watch this video to get some detailed information
Laboratory Extrusion Line
Multi-layer film extrusion for various film types
For the development of new film formulations or new film types, Brückner Maschinenbau has installed a laboratory extrusion line (LBE) with the following features:
Two twin screw extruders (L/D-Ratio: 56:1 & 42:1) and one single screw extruder
Granulate, powder and liquid feeding units; for instance for basic battery separator film R&D activities
Slide die with multi-layer feed block for the extrusion of single- or multi-layer cast films (ABA or ABC film structures)
MDO for stretching the cast film in machine direction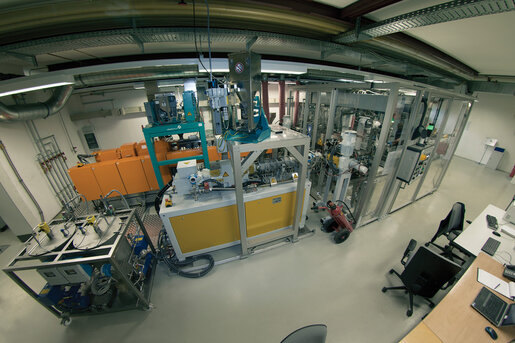 Four different investigation strategies are possible:
Produce a cast film and analyse the stretchability on the laboratory stretching machine KARO® 5.0
Produce a cast film and examine the simultaneous stretching behaviour in the roll-to-roll process on the pilot line
Produce a cast film and stretch in machine direction (MD) on the LBE and afterwards in transverse direction on the KARO® 5.0
Produce a cast film with MD stretching on the LBE and investigate the sequential stretching process in a roll-to-roll process on the pilot line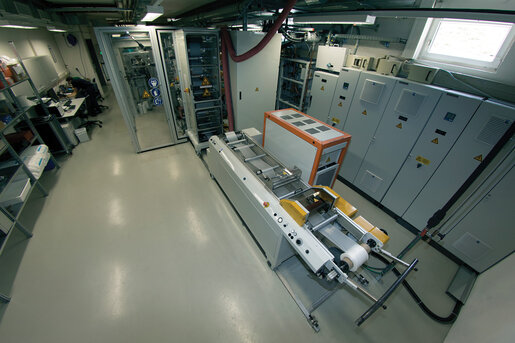 Laboratory extrusion in co-operation with Fraunhofer Institute
Multi-layer co-extrusion with up to four different polymers for cast sheet production in co-operation with the well-known Fraunhofer Institute for Packaging and Process Engineering. Suitable for tests on the KARO® 5.0 lab stretcher:
5-layer co-extrusion with three different polymers: die width 600mm, 25 - 150kg/h, 20µm - 2mm
7-layer co-extrusion with four different polymers: die width 300mm, 1 - 15 kg/h, 20µm - 1.5mm
Possibility of extrusion coating and extrusion lamination

Chemical & Film Laboratory
We can (almost) do everything 
Analysis of film, raw materials and components
Support from start to finish – lab equipment, on-site training, trouble shooting

Lab equipment from manufacturers we trust
On-site training for your staff by our experienced lab specialists
Trouble shooting and support to quickly find a solution for your problem

Film produced on our pilot line, the lab stretcher KARO® 5.0 or the LBE line can be examined immediately by our skilled personnel
Special equipment available - such as REM, laser scanning microscope and birefringency measurement
Long term measurements of film samples
State-of-the-art – we are continually updating and upgrading our testing devices and methods
In-house development of test methods to suit your requirements
Analysis of battery separator films – gurley, pore size, continuous thickness measurement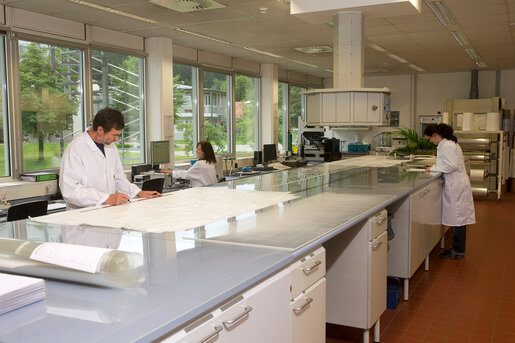 Innovation Test Center (ITC)
All our technical improvements are rigorously tested
Our "Innovation Test Center" is an important part of the professional development process at Brückner Maschinenbau for a number of reasons: We aim to offer our customers proven film stretching line solutions that are absolutely reliable. This also applies in the case of completely new innovative projects even if they are being used in production for the very first time.
We prove our expertise in advance through experiments and measurements on several testing devices: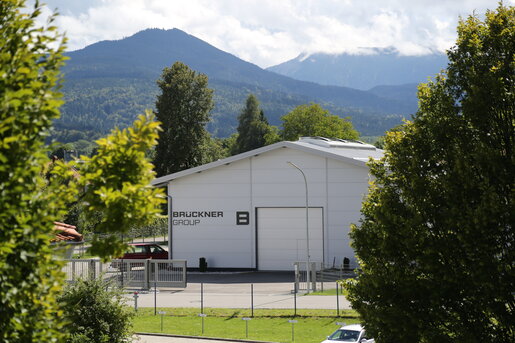 High-speed clip and track test stands in production environment
Feasibility of speed increase under simulated production conditions: high speed roller chain and sliding chain
Optimisation of all with the main focus on reducing lubrication, friction and temperatures
Oven test bed and nozzle boxes
Further development of new oven nozzles and other concepts
Analysis of air distribution and temperature homogenity
Test stand for high-speed roller chains
Analysis of all components and their applicability for high speed
Precise measurement and analysis of vibrations to eliminate wear
Nip roll test stand
Testing of new roller surfaces
Test stand for simultaneous stretching systems
Further development of the linear motor drive system as well as the process and control system