Partnership
A partner you can trust 100%
From the very beginning of a project we actively support our customers' decision-making process. We stand for highest quality standards at every project stage. From the very first idea of investing in a film stretching line to its installation and start-up and throughout the line's complete lifecycle you can rely on us 100%. You can also take advantage of our vast market, project and industrial expertise, our worldwide network as well as our German workmanship with excellent quality assurance.
No matter if you decide for high-quality components, a complete line, a turnkey project or an "all-round carefree package" – in every case we guarantee strict adherence to agreements and contracts as well as the absolute confidentiality regarding your specific and tailor-made solution. Customer satisfaction is the prime goal for any project, our customer's success is our pride.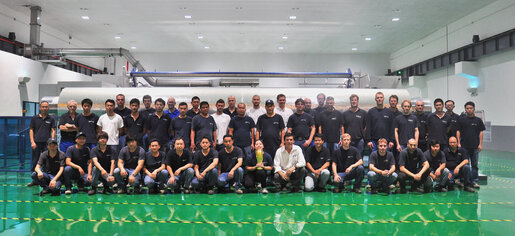 "By and large, it was our full confidence in Brückner's overall capabilities that made us team up with them again."
Prashant Mehra, President & CEO, SRF
We now have a broad portfolio of Brückner BOPP lines in working widths of 4.2m, 6.6m, 8.7m and 10.4m – with this equipment we will be able to react very flexibly to the markets' fast changing demands."
Beyan Faik, Managing Director, Plastchim-T
With our new BOPP capacitor film line project we will continue this fruitful relationship with Brückner and will set another milestone regarding efficiency and quality."
Di Wei, Vice President, Zhejiang Nanyang
The cooperation between Treofan and Brückner project teams has been fantastic and has allowed us to bring the new plant on stream ahead of challenging deadline."
Allan Crighton, Treofan México
Brückner's comprehensive know-how in PA film stretching and especially their unique simultaneous technology will help us to satisfy the challenging demands of or target markets."
James Kuo, Chairman, LiLing Film
Our first joint project with Brückner was characterized by a close cooperation and a high degree of mutual trust."
Muhammad M. Ismail, Chairman, Ismail Industries
We are looking forward to the new cooperation with our proven partner Brückner. The coming line will help us to reach the next technological level, in accordance with our motto to serve our customers' needs in the best, most cost efficient and innovative way."
Walter Stroeder, COO, Bilcare Research AG
To realise such a specialty film project is always challenging – and our expectations are high. But they have been fully met due to the great efforts both parties, Wing Ning and Brückner, made."
Ronald Leung, Chief Technical Officer, Wing Ning
During our first joint project we established a really profound partnership with Brückner. The overall support we got at that time being a new producer and the very smooth project course made our decision easy: to team up with Brückner again."
Antoni Niemiec, R&D Director, Alupol Group
The most important factors for us are advanced machine technology, excellent process know-how and super project execution. All this we found at Brückner and we are happy to approach our BOPET market entry together with our proven, long-term partner."
Pankaj Poddar, CEO, Cosmo Films
Thanks to the hard efforts from the teams of both Changsu and Brückner, our new and first LISIM® BOPA line has started up smoothly and successfully, exceeding our expectations."
Wang Zhe Fu, President, Xiamen Changsu
We are very glad about the smooth cooperation with Brückner and are looking forward to an ongoing partnership."
Anton Matvienko, CEO, Biaxplen